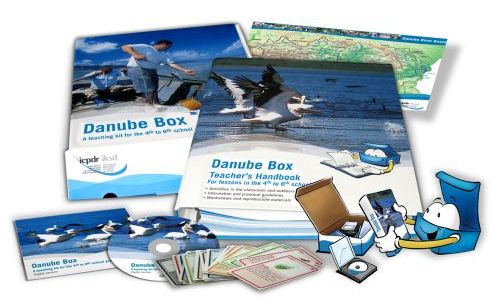 Invitation to explore the Danube
Find right here inspiring, informative and exciting teaching material about a very special European river: the Danube.
The world's great rivers are unique: they tie together peoples and civilisations, and they encourage communication and discussion. They have inspired mankind from time immemorial. The Danube is one of these rivers, an important band that unites Europe. More than 81 millions of people in 19 European countries the Danube provides with food, drinking water and energy, with transport ways and recreation areas. Knowledge about the Danube in all it's aspects is collected in the Danube Box. It offers a holistic approach and contributes to create awareness and understanding about the protection of the Danube and its wise and sustainable use.
Comprehensive, exciting, practical
The Danube Box is a comprehensive educational tool for teachers and educators working with children of the age between 9 and 12. The didactic material is for use in different disciplines. Furthermore, the media set is offering to all those interested in the Danube a wide range of information on ecology, geography, wildlife, cultural diversity and everyday life in the past and today in the Danube countries. It can be used in class just by following the provided teaching units and outdoors for nature experience, fun and action at project days and ecology camps.
Exploring, learning, doing
The richness of the clearly arranged materials is useful for educators and enthusing kids as well. The kit includes several media: handbook for teachers, with detailed instructions and copyable worksheets, Danube poster, playing cards and a CD-ROM with tales and pictures of the Danube countries, a quiz, maps and background material. Playing, exploring, enjoying, and learning at the same time - all this is possible with the Danube Box. And after all you will find concrete suggestions, what evrybody can contrbute to the protection of the Danube.
You may explore the tools on this site or go to the download page. The print version of the Danube Box has now run out! The digital versions of all the material can still be downloaded from this site.